Rethink Technology business briefs for Nov. 30, 2018.
The Crypto Scapegoat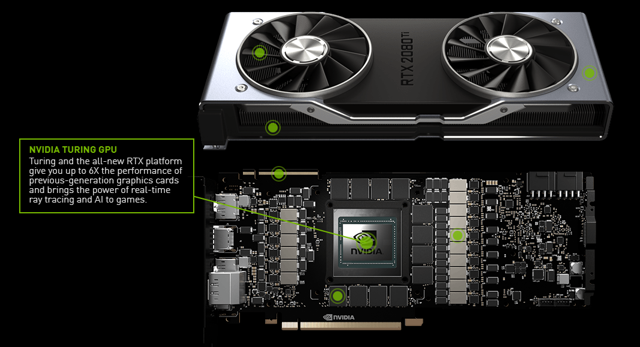 The troubled RTX 2080 Ti. Source: Nvidia.
Nvidia's (NVDA) fiscal 2019 Q3 results were the occasion of much focus on crypto mining and the impact of crypto due to its guidance for Q4. In fact, Nvidia's results continued to show little direct impact from the decline in demand for crypto mining cards, as I expected.

The Gaming market segment, which was supposed to take a big hit due to crypto, continued to be strong.

In February of this year, SA Contributor Akram's Razor claimed that the growth of crypto mining was key to Nvidia's GPU sales growth. He stated:
Because looking at Nov-Jan I have a very hard time believing that 9/10 cards sold didn't end up in miners or mining related hoarders hands. All research indicates the gamers were essentially completely shut out of the market.
Yet despite the supposed collapse of crypto mining demand, Nvidia's Gaming segment has continued to post large year-over-year growth throughout fiscal 2019.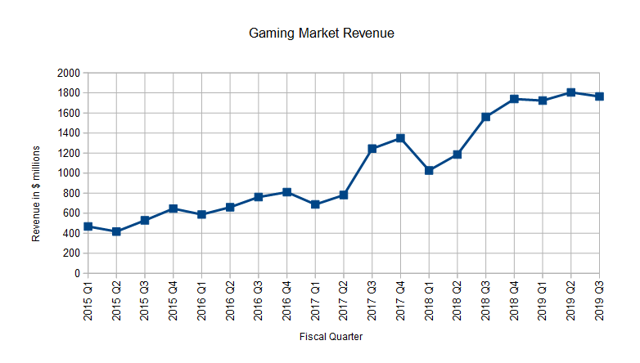 But Nvidia played into the hands of the bears by laying the blame for its weak guidance on crypto, as CFO Colette Kress stated during the conference call:
Although the cryptocurrency wave has ended, the channel has taken longer than expected to normalize. Pascal high-end cards have largely sold through ahead of RTX. However, on midrange Pascal gaming cards, both channel prices and inventory levels remained higher than expected. Pascal is well positioned as the GPU of choice in the midrange for the holidays, and we expect to work down channel inventories over the next quarter or two.
She does at least make clear crypto did not threaten Nvidia's high-end gaming GPUs, which is something the bears seem to want to ignore. This was due simply to the fact that Nvidia's high-end GPUs were not preferred for mining because of their high initial cost.
The perception that Nvidia was now vulnerable to crypto mining was something that clearly rattled the market, yet the problem is really more complicated than Nvidia's management let on. Crypto mining hasn't come to an end, as we'll see in the next section, although demand has certainly been reduced. This slower growth has not put a glut of used cards onto the market, thereby taking Nvidia's management by surprise.
The high inventory of low-priced Nvidia cards at board partners, as well as for Nvidia's own brands (an estimated 12 weeks), seems simply the result of bungled forecasting by Nvidia and its partners.
Nvidia's management also seemed to want to divert attention from the Turing launch, which has gone slower than they probably expected. If Turing had been the smashing success that Pascal was, the expected inventory correction in Q4 would not have been a significant drag on revenue. During the conference call, a number of analysts spotted this. For instance Pierre Ferragu of New Street research asked:
And then my second question is while you are bringing down these inventories, I would have expected to see, like, the Turing high-end card, the 2080 and the 2080 Ti ramping in Q4. And it looks like, excluding the inventory, the rest of the business – the rest of the GPU business in gaming would be more like flattish sequentially.
He really gets to what I believe is the heart of the matter, which is why the Turing launch doesn't appear to be compensating for the decline of mid-range Pascal card sales. Nvidia estimated that the lack of mid-range sales would take away about a third of the Gaming segment revenue, or about $580 million assuming that Gaming revenue would be sequentially flat otherwise. Assuming some growth in other segments, this accounts for the sequential decline of $480 million in the guidance.
CEO Huang never answered the question about Turing, and never answered any other specific questions about how well Turing was doing except to say that the launch was going "great." So far at least, the Turing launch impact is looking nothing like the impact of the Pascal launch, which can be seen in the Gaming segment chart above. In fiscal 2017 Q3, Nvidia's Gaming Segment posted a $434 million sequential revenue increase. Q3 was the first full quarter of consumer Pascal availability.
There are extenuating circumstances for Turing, however, including apparent technical problems that slowed the release of the high-end Turing RTX 2080 Ti, as well as the lack of Microsoft (MSFT) DirectX Raytracing (DXR) content. So far, Battlefield V, which has received mixed reviews, is the only game to support it.
The Growth and Decline of GPU Cryptomining
Back in February, Akram's Razor pointed to an important tool to assess crypto mining sales, the published growth of crypto currency mining capacity, which could be converted into an estimate of the number of mining cards sold for mining. Curious, then, that his subsequent analysis ignores that tool and what it has to say about the state of mining card demand.
The mining capacity for the principal GPU-mineable currencies of Ethereum (ETH), Zcash (ZEC) and Monero (XMR) as quantified by aggregate mining hashrate grew substantially in 2017, but leveled off in 2018, as shown below.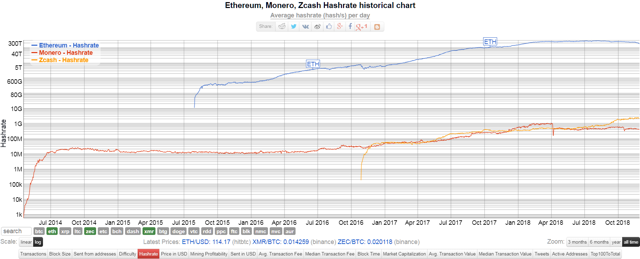 Source: BitInfoCharts.
It's growth in mining capacity that has fueled demand for mining GPUs and the dramatic reduction in hashrate growth should have brought about a crash in Nvidia's gaming GPU business, according to Akram's thesis. Yet that didn't happen.
Given the rate of mining growth as of the end of 2017, it was at least plausible to assert that most of Nvidia's GPU business was going to crypto mining. Well, plausible if one ignored certain inconvenient truths. One has to ignore the fact that Nvidia doesn't receive the retail value of the cards sold by its add-in board partners, but only the revenue due to the chips it sells them. One has to ignore the division of the mining market between Nvidia and rival Advanced Micro Devices (AMD).
If we account for these things, then Nvidia's revenue due to crypto mining demand is much less. The chart below shows the calculated total retail value of mining cards based on hashrate growth, and the portion of Nvidia's estimated revenue due to mining.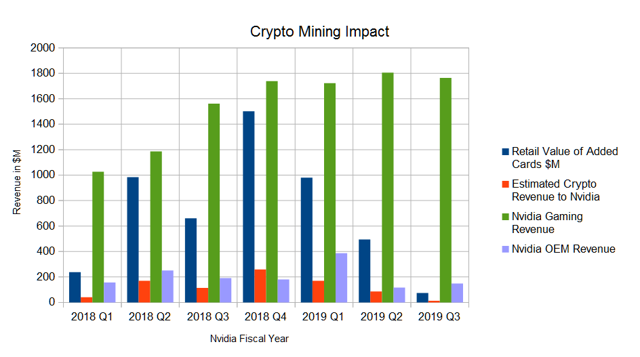 Nvidia's share of retail mining card sales is reduced by a factor of about 35% representing its approximate chip value compared to the total mining card retail price and by a factor of about 50% representing its sales market share relative to AMD. For comparison, I also include Nvidia's Gaming segment revenue per quarter, as well as its OEM revenue, where I believe most of the crypto mining revenue was booked.
Even if one believes that Nvidia somehow derives the full retail value of mining cards sold, that revenue declined dramatically this year (Nvidia's fiscal 2019), as mining demand was reduced. SA Contributor EnerTuition recently asserted:
It so happens that the explosion in "Gaming" growth perfectly parallels the cryptocurrency market. While we do not doubt that gaming is growing at a steady clip, the hypergrowth Nvidia witnessed in the "Gaming" sector, especially in the last two years, seems to be almost entirely driven by the cryptocurrency market.
This assertion simply doesn't withstand scrutiny when the crypto currency impact is properly analyzed. So what exactly is the crypto mining effect on Nvidia? It's not the loss of revenue due to direct sales of crypto mining cards, as this was already visible in the steep decline of the OEM segment revenue in fiscal Q2.
I question even whether it's due to a sudden glut of used mining cards. Total mining capacity hasn't been reduced between the three currencies, even if little new capacity has been added. It's possible that Ethereum mining ASICs have had some impact on GPU demand, but this is hard to quantify. Ethereum ASICs have been available since April, but the efficiency of the ASICs was not so superior to GPUs that it's thought that it would put an end to GPU mining of Ethereum. The other currencies have actively resisted attempts to build ASIC miners.
Most likely, Nvidia simply assumed more future demand for its low-end graphics cards than was justified, either by mining or gaming demand. This is an obvious blunder, but it's a recoverable one that does not presage an end to Nvidia's growth.
Left Calls the Bottom
Last Tuesday, Nov. 20, Andrew Left of Citron Tweeted that he was buying Nvidia: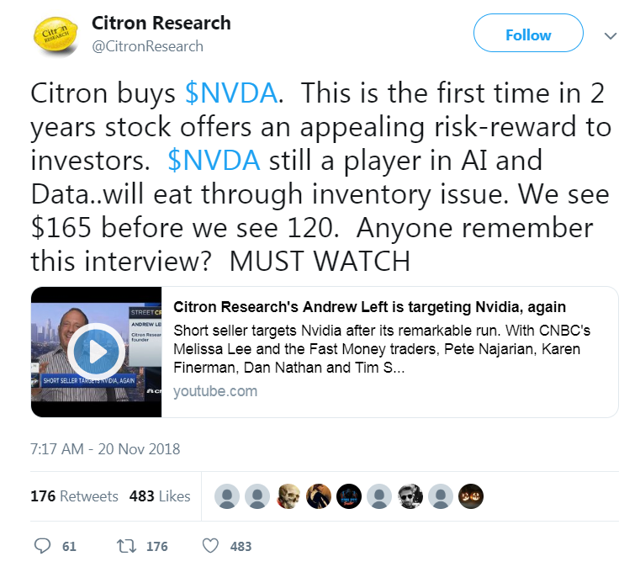 Andrew Left has been terribly wrong in his assessments of Nvidia, but he has been more successful in reading, or perhaps helping to shape, market sentiment regarding Nvidia. My immediate reaction to the Tweet was that Left had wrung all the profit he could out of his short position, and it was now time for him to profit from Nvidia's next rise.
Left's Tweet appeared in the morning before market open, and the stock opened at $138.70. Nvidia's share price would never touch that low again for the remainder of the week.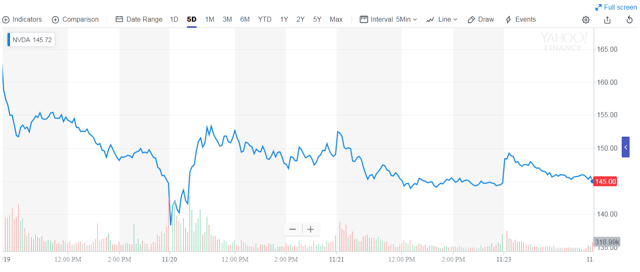 Source: Yahoo Finance.
Although there are still signs of downward pressure on the stock, Left is probably right that Nvidia will not fall below $140.
My takeaway from this is not so much Left's masterful timing, as it is his influence on the market. He and others like him have helped foster the decline in Nvidia's stock. His actions demonstrate the influence of the media on the market, not merely conventional media, but social media as well.
This earnings season has to a very large extent helped explain what has heretofore been inexplicable irrationality of the market. The market is not so much irrational as it is easily led. Rather than think for itself, the market trusts media pundits to tell it what to do.
Investor Takeaways
My general takeaway from this earnings season is that the market has been stampeded into selling off the tech sector by fear mongering in the media and by analysts. Therefore, it's a great time to buy.
Far from giving in to fear and selling Nvidia, I've been buying into the sell off. Nothing has fundamentally changed in the Nvidia investment thesis as far as I'm concerned.
Yes, Nvidia's management kind of screwed up. Those who are familiar with my coverage of other companies such as Apple (AAPL) will know that I don't put managements on pedestals. I don't hesitate to criticize them even as I maintain a long position. Sometimes readers are surprised by this, but I don't write about companies I'm invested in order to sell them.
Frankly, I'm more concerned about Turing than crypto. With benefit of hindsight, the consumer Turing launch seems more than a little rushed. It probably would have been better to wait until 2019 and bring the architecture out on TSMC's (TSM) 7 nm process. This would have made the cards a better value since they could have offered more performance for non-DXR games. It also would have given developers more time to produce DXR enabled games.
Despite these fumbles, I remain long Nvidia. CEO Jensen Huang, while not infallible, has demonstrated time and again an ability to learn (and profit) from his mistakes. And with $7.5 billion in cash and marketable securities, Nvidia is perfectly capable of correcting its mistakes. I continue to rate Nvidia an exceptional buy.
Nvidia is a key holding of the Rethink Technology Portfolio. Consider joining Rethink Technology to get full access to exclusive coverage of all Portfolio companies.
Disclosure: I am/we are long NVDA, AAPL, TSM.
I wrote this article myself, and it expresses my own opinions. I am not receiving compensation for it (other than from Seeking Alpha). I have no business relationship with any company whose stock is mentioned in this article.
Forrás: Klikk